Healthy Snacking Just Got Easier
Whether you are just starting a healthy eating and exercise routine or you already adhere to a dietary wellness and fitness lifestyle, you are going to love the latest addition to the Isagenix health food snack line. White Cheddar is a popular flavor amongst cheese lovers. And now, Isagenix White Cheddar Whey Thins are available. Not only is one savory serving size of White Cheddar Whey Thins packed with high quality protein (10 grams), energy boosting carbohydrates (9 grams), and good fat (3 grams), but it is amazingly low in calorie count (100).
These whey thin crackers are the ideal solution for anyone looking for a well-balanced, guilt-free, snack. They taste delicious, the texture and sodium content fulfills the craving for crunchy and salty foods, the package size is pre-measured for calorie control and appetite satisfaction, and the individual, wholesome ingredients stimulate metabolism while they continue to support lean muscles and weight loss.
But wait, there is even more good news. All of the above described benefits are further enhanced because these White Cheddar Whey Thins are excellent for individuals with a number of food allergies. While these crackers do contain some hormone and regular antibiotic free milk components, they are gluten-free, trans-fat free, soy-free, low-glycemic, and also free of artificial colors, flavors, and sweeteners. White Cheddar Whey Thins eliminates the regret that people experience when they give in to their urge for empty-calorie laden salty or sugary snacks. With all of these positive attributes, what is not to love?
Cleanse days just got better 
Are you looking for more good news? Well, look no further, because we have it. If you are following the Isagenix health and fitness program, you know how boring the cleanse days can be. But, not now. White Cheddar Whey Thins are now on the schedule of approved snacks for cleanse days. When crunchy and salty is what you desire on a cleanse day, whey thin crackers are the answer. You can extend the consumption of one package by eating a few of the crackers, about one-fourth of the package, spread out over your scheduled snack times during the entire day. You can also choose to mix your whey thins snack with your sweet snacks during shake and cleanse days.
We are all human and we all have our moments of guilty indulgence. But, with the addition of Isagenix's White Cheddar Whey Thins, you are really empowered to obtain and maintain a successful, healthy lifestyle without any regrets or moments of guilt. If you are what you eat, then snacking on these yummy crackers will greatly help in having the best you possible. Where else can you pamper yourself with guilt-free snacks while still achieving your fitness and weight loss goals? Wellness never tasted so good.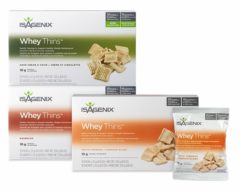 The White Cheddar Whey Thins are now available for individual retail purchases or they can easily be added to your autoship orders. There are 10 single serving packages in each box and you can order more than one box at a time, because there are no restrictions.