Are Isagenix Products Safe during Pregnancy?
 Both pregnancy and nursing can be extremely demanding on a mother's body. Nutritionally, the body needs a wide range of nutrients every day to support the proper growth of the baby while still maintaining the mother's dietary needs. The overall quality of a mother's diet can have a profound impact on the outcome of her baby's health. Good nutrition during pregnancy and breastfeeding is directly linked to several positive outcomes including a higher chance of a normal birth weight, improved fetal brain development, and a reduced risk of birth defects.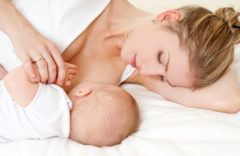 Pregnancy and breastfeeding are not appropriate times for cleansing the body or restricting calories. The majority of pregnant and nursing women require an extra 300 to 500 calories per day to support the baby's growth and development. The important thing to realize is that not all calories are equal. Your body, and your baby, require healthy foods that are brimming with nutrients, not the "empty calories" typically found in soda, candy, desserts, and junk food.
Important factors for having a healthy pregnancy and postpartum experience include consuming nutritional supplements as recommended by your midwife or physician, avoiding tobacco, alcohol, and other harmful products, gaining the recommended amount of weight, and partaking in regular physical activity.
Products That Are Considered Safe During Pregnancy and Breastfeeding
Although not all Isagenix products are recommended during pregnancy and breastfeeding, there are several safe options to consider. These products are all safe to consume as part of a healthy diet but should not be used as meal replacements.
Products That Are Not Recommended During Pregnancy and Breastfeeding
A few Isagenix products, particularly those that contain adaptogens or herbal ingredients, we Do Not recommended during pregnancy or nursing. These include:
Natural Accelerator
Greens
Cleanse for Life
Ionix Supreme
IsaFlush
Eshots
CytoActives
Brain and sleep support system
Additionally, Cleanse Days are Not recommended during pregnancy or nursing. Pregnant and new moms require sufficient calories to sustain their own bodies and their babies.

Returning to Your Pre-Pregnancy Weight
After pregnancy, and once your baby has been weaned, new mothers can safely use Isagenix products to help them return to their pre-pregnancy weight. Cleanse days can be especially helpful for releasing any unwanted leftover weight.

It is important for new moms to avoid putting too much pressure on themselves in regards to returning to their pre-pregnancy body. It takes time to regain prior muscle tone and let your body properly heal. The complete system of Isagenix products, along with a healthy diet, can help boost your memory, encourage weight loss, and rebuild your focus. Be kind and patient with yourself as you begin your journey to regaining your pre-baby body and optimizing your health.
Special Note: If you are diabetic, pregnant, nursing, taking prescription medication, have been diagnosed with a medical condition, or are starting a new weight loss program, it is always important to notify your physician and discontinue use if necessary.
Save
Save