Salmon and Avocado Lettuce Wraps
What an amazing combination of flavors that make for a delicious healthy meal. Salmon is full of omega 3 and avocado are a great source of fiber.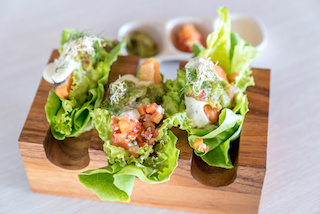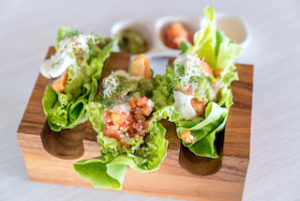 Ingredients
1 tsp Dijon mustard
1 tbs olive oil
1 tbs vinegar
1 x tin salmon
1⁄4 avocado, sliced
1⁄2 head baby lettuce to make lettuce cups
1 tsp roughly chopped dill leaves 1⁄2 lemon, cut into wedges
Directions
Whisk oil, vinegar, and mustard together
Toss salmon through the dressing
Divide salmon and avocado between lettuce cups
squeeze lemon and sprinkle dill over the wraps
Health Benefits of Ingredients
Salmon is high in protein which helps you stay full longer and is one of the best forms of the long-chain omega-3 fatty acids. Salmon is also high in Vitamin B's and great source of potassium. In fact salon actually contains more potassium than a banana.
Avocados are highly nutritious and have many help benefits and have become extremely popular amongst health goers. They are a great source of fiber and also have more potassium than bananas. Avocados filled with heart-healthy Monounsaturated fatty acids, which is the good healthy fat's our bodies need. In fact, the fat in avocado's can help you absorb nutrients from other foods.
Vinegar helps control blood glucose levels and enhances weight loss.  Vinger as a reputation for support gut health and aiding in digestion.
Lemons are one of the most popular immune-boosting vitamin C citrus fruits. Lemons offer so many benefits including adding flavor to your water and foods with little calories and jam-packed full of healthy goodness. Lemons are known for their high fiber and potassium content and aid in weight loss. To learn more about benefits of lemons check out my Green Cleansing Juice recipe. 
Option: I used lettuce cups all the time for food that general have bread, for example, tacos, burgers, wraps etc. You can buy big long cos lettuce leaves or big ice burger lettuce heads. When using the ice burger lettuce use the first half of the lettuce layers for your wraps and then using the remaining portions for making crispy salad base.