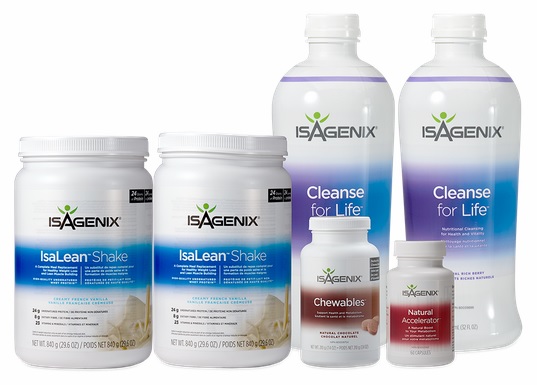 Accelerate Healthy Weight Loss!
Get weight loss and cleansing off to a fast start with this starter pack from Isagenix.
The average weight loss for people using the Isagenix 9 Day Cleanse is 7 pounds. However, we highly recommend the 30 Day Cleanse or Weight Loss Premium Value Pak (formerly called the President's Pak) over the 9 Day Cleanse as it is much better value for money and you will experience better weight loss and overall health results.
Download the Isagenix Weight Loss System Guide for full details on how this program works, how it can benefit you, how to complete a shake and cleanse day, and more.
When using the 9 Day Cleanse you may experience:

Greater energy
Weight loss
Improved muscle tone
Balanced digestion
Reduced cravings
Retail Price: $229.28
Sign up and save: $163.00 + $29 membership (Save $37.28!)

To order this product:
Click on the Buy Now button above
On the next page, click on 'Buy Now' for retail orders, or 'Sign Up and Save' to sign up as a Preferred Customer (cheapest option)
Select the 9 Day Cleanse from the list of products and proceed through the checkout
If you need assistance, please email info@isaaxcess.ca
Clicking the button above will direct you to the 100% secure Isagenix Canada website, where you will complete the purchase at the lowest guaranteed prices. Orders are shipped fast from the Canadian distribution centre and most arrive in 1-3 days. All first time orders have a 30 day product money back guarantee. View shipping rates and times.
Product list
How to Buy
Make Money (Optional)
Reviews
Save
Save
Save
Save
Save
Save
Save
Save
Save
Save
Save
Save
Save
Save
Save
Save
Save
Save
Save
Save
Save