If you are on a journey to get healthier, it is just as important to pay attention to your mental health as your physical health. Developing a healthy mindset is a key way to confidently face challenges, stay motivated to exercise, and make healthy eating choices.
The best part? You can start to shift to a more positive mindset with the simple daily steps outlined below.
10 Tips to Develop a Positive Mindset
1. Love Yourself Right Now
Commit to loving yourself right now, exactly where you are at. If you keep thinking you'll love yourself "once I lose 15 pounds" or "once I get this promotion", you'll always be chasing self-love.
Make a commitment to love yourself exactly where you are right now. Show yourself appreciation for where you are at in your life right now — not where you think your life *should* be.
2. Surround Yourself With Other Positive People
Surrounding yourself with positive friends, loved ones, and family is a great way to develop a healthy mindset. Spending time with people who always seem to find the good in any situation can help you become naturally more positive!
Feeling supported, loved, and appreciated is also a great way to boost your mood and keep your motivation high as you work on your health and wellness goals.
3. The Only Person You Should Compare Yourself to Is YOU
Comparison can have a negative effect on your mindset and self-esteem. Focus on being the best version of yourself rather than comparing yourself to others.
4. Practice Gratitude
Life can get hectic and overwhelming, but it is important to take the time to practice gratitude, unwind, and reflect on the good things in your life. Make sure to set aside time every day — it only takes a few minutes — to reflect on the progress you are making and what you are grateful for. Taking this time to reflect can help you become more connected with yourself, improve your mindset, and tackle problems with confidence.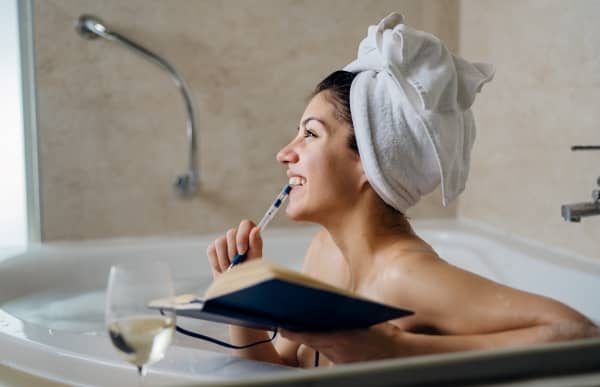 5. Choose Healthy Foods
The right foods can help you improve your mindset from the inside out. Nourishing your body with vitamins, minerals, antioxidants, nutrients, and healthy fats can help you look and feel your best.
Alternatively, the additives and sky-high sugar levels in many processed foods can leave you feeling lethargic, stressed, and in a mental fog.
To feel your best, mentally and physically, try to eat a balanced diet full of healthy foods, such as:
Fatty fish
Avocados
Nuts and seeds
Whole grains (oatmeal, millet, quinoa, barley, brown rice)
Eggs
Extra virgin olive oil
Berries
Apples
Bananas
Oranges
Mangoes
Watermelon
Leafy greens
Broccoli
Cauliflower
Brussel sprouts
Asparagus
Beans and legumes
Carrots
Sweet potatoes
6. Find a Hobby
Do you sometimes feel like all you do is work or study? If so, it might be a good time to work on finding balance in your life. It is important to spend time unwinding and doing things you love. This can help you clear your mind and fight off stress so you can get back to your work or studies with improved focus and a positive attitude!
Consider trying a new sport, taking a fun class, developing a new skill, or joining a community club.
7. Give Back to Your Community or Loved Ones
One of the best ways to promote a positive mindset is by volunteering and giving back to your community. Whether you make a point to do at least one act of kindness a day, find an organization you want to volunteer with or help out at a community event, giving back is a powerful way to build a healthy mindset and feel happier and more fulfilled.
8. Exercise Regularly
Exercise is a proven way to support mental health. Regular exercise can release powerful neurotransmitters known as endorphins. These feel-good chemicals can help improve your mindset, reduce stress levels, and improve your overall well-being.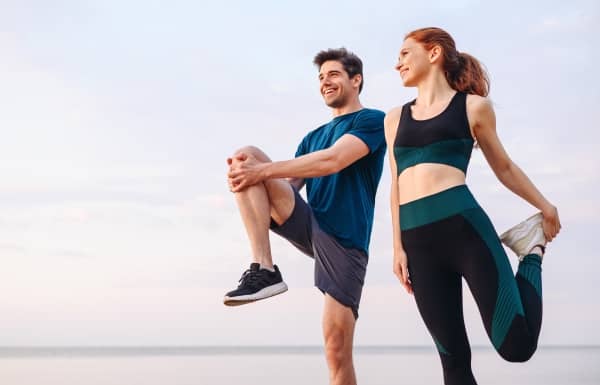 9. Change How You View Failure
It's tough to fail — but we all do at some point. The key is how you respond to failure. When something doesn't go as planned, view it as a chance to learn and work on your personal growth — and be proud of yourself for trying!
Here are some inspirational quotes about turning failure into success:
I've not failed. I've just found 10,000 ways that won't work. -Thomas Edison
The one who falls and gets up is stronger than the one who never tried. Do not fear failure but rather fear not trying. -Roy T. Bennett
Failure is success in progress. -Albert Einstein
Failure is an attitude, not an outcome. -Harvey MacKay
10. Be Open With Your Feelings
It is important to be open and honest about your feelings. Talking with a loved one can help you process feelings, work through problems, and maintain a healthier mindset.
If you aren't used to talking about your feelings with someone else, a journal can be a great way to share your feelings. Try taking a few minutes every day and simply writing down whatever you are going through or feeling that day.
Shift Your Mindset
Developing a healthy mindset can help you stay motivated and on track as you work toward your wellness goals.
If you are working on shifting to a more positive mindset, be patient with yourself. Changes to your mindset will take time, but you can develop a healthy mindset if you stick with it.
If you would like more tips on healthy living or advice on products or supplements that may complement your wellness journey, please contact us.